First, would you like a good laugh? I crocheted a bag with pure wool. It looked just lovely. Then I put it in the washing machine to felt. And this is what came out of the machine:
It is VERY small and really thick. Lesson: crochet felts much better than knitting. Well, I can still use it as a mini stitching basket or decorate it with some flowers and give it to a child. :D
Now, the stitching results of the past few days. I stitched the blue striped design, both with and without the red backstitch/French knots, and made an ornament out of the two.
I used DMC 311, 794 and 309 for this. Can't decide which side I prefer. :) If you want to make it, note that the version with the red is one stitch smaller, so you need to stitch the backstitch line accordingly (my favourite finishing method is this, and not only for biscornus: backstitch line all around, then whipstitch together).
I also stitched the bird in the circle, using a variegated blue, Anchor 1210. Don't know yet how I will finish it.
I made a variation of the circle with coloured sections, and stitched it with smyrna stitches:
Here is the modified pattern:
There is another new freebie: a bookmark pattern. I stitched it using long armed cross stitch. It has long intrigued me, since it was used in old Hungarian patterns, but recently I discovered it in Swedish stitching as well. The Swedish call it twistsöm. What is different from cross stitch: you stitch the lines following the direction of the pattern.
I looked at different books, and found something interesting: in the Hungarian tradition they stitch a line then turn the work and stitch the next line in the other direction. This way they are creating ridges and valleys, so to speak. Swedish twistsöm, if I understood the explanation in my book correctly, is usually stitched starting from the same end, and so the lines resemble braided thread. There are other interesting similarities and differences between the two countries' stitching traditions, but more about that later. I am still learning.
I thought the simple stripes pattern will be an easy one to try out this stitch, and here is the result.

I like my bookmarks to have a back, so I often stitch someting simple to put on the back, too.
Here you can see the long armed cross stitch/twistsöm more closely: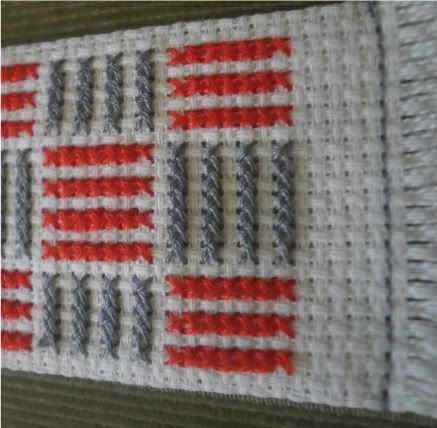 This photo also gives you an idea how the bookmark was finished: two lines of backstitch on the long sides, whipstitched together, and the lines across at the ends were stitched going through both layers. Then the edges were frayed. I like this finishing. This bookmark can be washed if it gets dirty, still, it is not too soft.
For those who don't know how to stitch long armed cross stitch, here is a step by step drawing, I hope it is clear enough:

And finally, the pattern of the bookmark (of course, it will look lovely with simple cross stitch, too).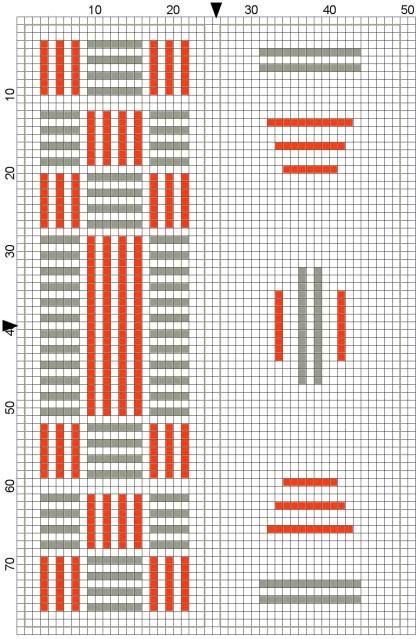 I know that some of you have stitched a pattern or two from this site. Can you please, send me a picture or allow me to put up a link here? It would be so nice to see them all.
Happy stitching to everyone. :)